What should I buy?
These are guides to help you decide what to buy. Your choices will depend primarily on whether you're a Neonate joining the night or an Elder coming out of torpor.
Neonates joining the night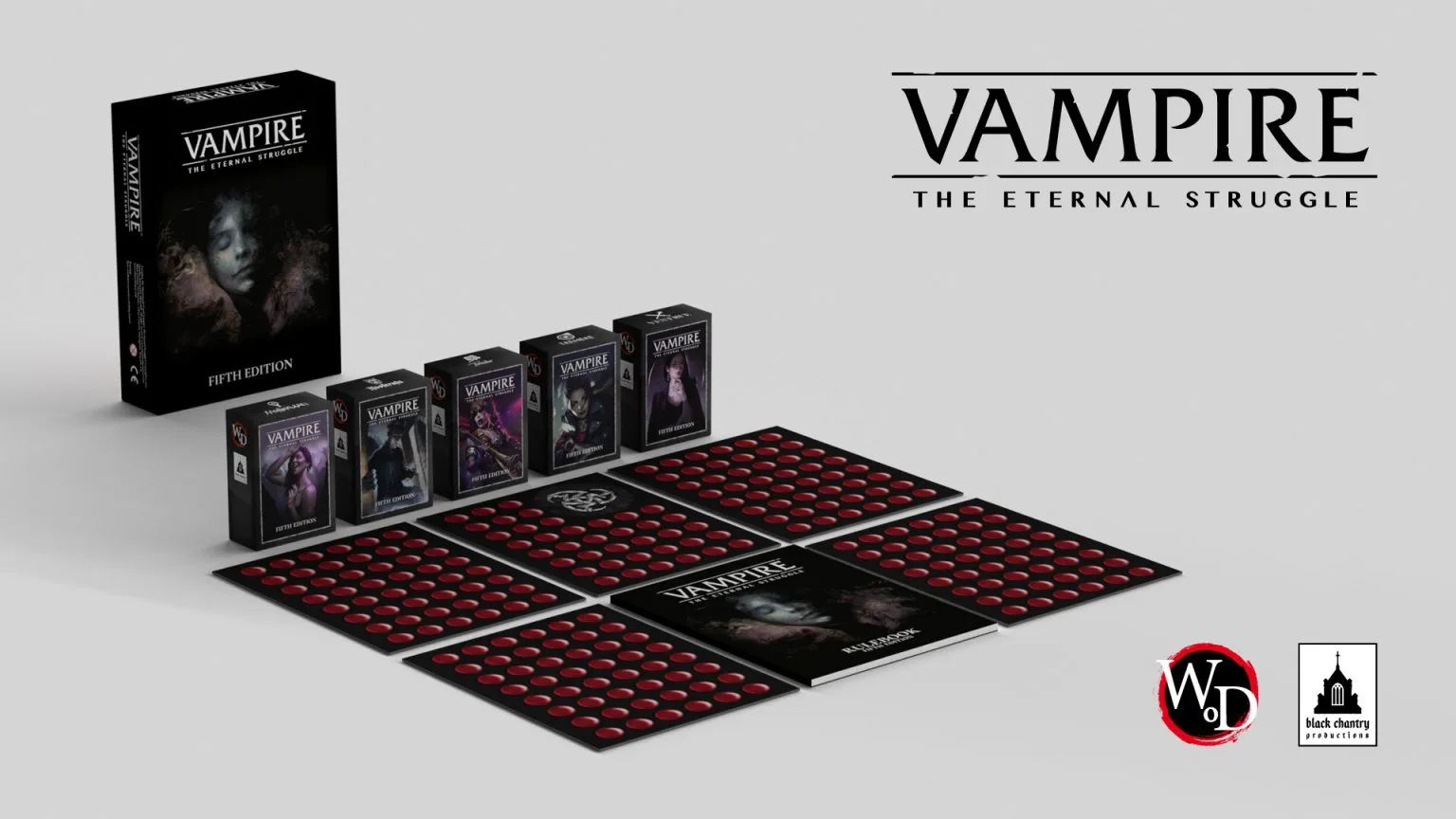 Neonates are the new Methuselah joining us in the Eternal Struggle. If you're looking into getting in the game, your best bet is without question the V5 box, containing 5 Camarilla preconstructed decks: Ventrue v, Tremere u, Toreador t, Nosferatu s and Malkavian q. You can play them straight out of the box and get a few fun games out of them. It is the perfect start for a collection or a curious Coterie alike.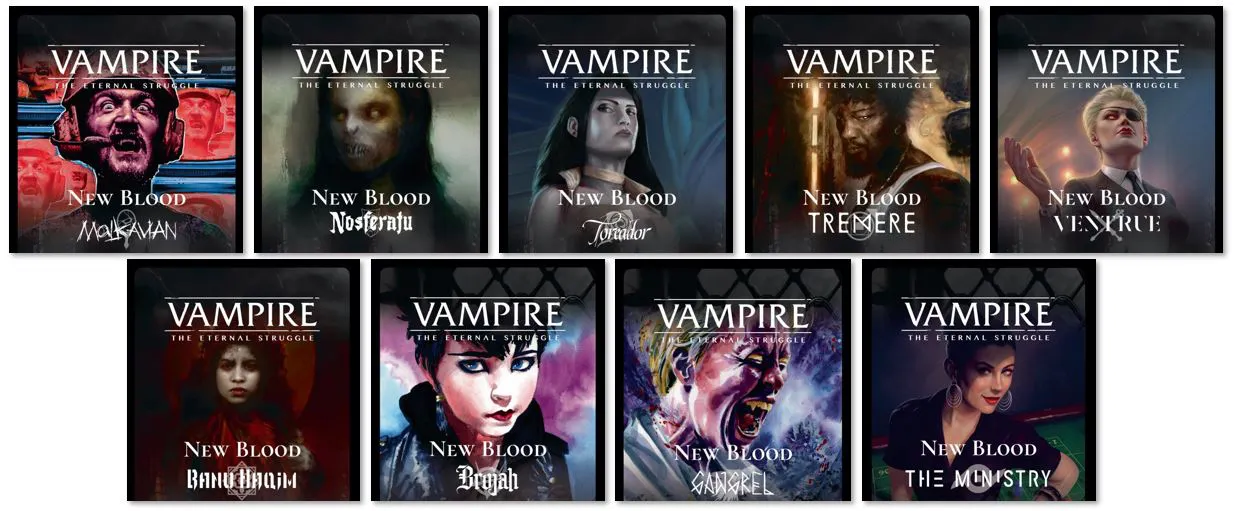 If you're more interested into demoing the game, you might want to acquire instead the five New Blood decks matching those clans: they're cheaper and they're perfect to demonstrate how the game works to a couple of people in half an hour, but they're not full-fledged decks you can run a real game with. However, they are perfect additions to the V5 decks: you can use the New Blood cards to tinker the starter decks and try to modify and improve them a bit.
If you want to go beyond that and achieve the highest power possible for the lowest price, it seems like a good rule of thumb is to go one V5 starter + two New Blood for each clan. See for example these blog articles about Tremere and Malkavian.
From there, two possibilities are open to you: Go wide or Go deep.
Go wide: more clans, more decks
You might want to acquire more decks featuring more clans. This would give you and, maybe, your playgroup, more options and allow for a lot of different games.
It really depends on the kind of players you are: some playgroups prefer to have each member focus on their own clan and try to improve their deck game after game, while others prefere to mix and match, switching clan and deck every game.
If you want to go wide, here are the next steps:
Go deep: deckbuilding & refining
Your other options is to have fun with a bit more deck building. Rather than fooling around with many options and building a collection of ready-to-play decks for friends to come play with, maybe you're more into carefully honing and improving your own deck and then meet with your friends and there deck to see who comes out on top. Maybe you want to play regularly with Elders who have access to a wider collection, or participate in tournaments.
In that case, diversification might not be your path, and you might want to go deeper into nice deck building options for your favorite clan. Therefore, your buying list shall be different.
Elder coming out of torpor
Welcome back, fellow Elder, if you're just getting out of torpor, awaken by the rumors of fresh new blood rampaging the streets and Anarchs rising all over the world.
If you already have a decent collection and the basic staples of the game, your will approach buying new cards from a very different perspective. Whether you want to complete your collection, try out some niche archetypes you could not afford before that have recently been made much more available, or want to discover the new cards and archetype that have been unleashed this last couple of years, this guide should provide you with all the information you need.
New cards
Worthy reprints
For the collectors
A few of us Elders are greedy hoarders. That's fine, that's the beast speaking, really. You have to let it go from time to time, right? Some pretty exclusive promos have been released in the last few years, and there have been successive prints and differences in bundles you might want to know about:
Some promos have been released with alternate are: Full-bleed Maila, G6 Theo Bell and Hesha Ruhadze, two sketch versions of Direct Intervention, alternate arts for Archon Investigation and Bum's Rush.
An Edge card that has been released as promo and is now also available on Drivethru Cards.
The Anthology set released and sold in Berlin in 2017 is different from the Anthology 1 reprint: it had a few more cards (Andre, Aisha, The Line) and a different icon.
The pledgers of the Unleashed Kickstarter, the printed release of the VEKN "PDF expansions" Anarch Unbound, Danse Macabre and The Unaligned, also got the promos Double Deuce, Ashlesha, Len Kanopka, Vivienne Geroux, City Star Taxi, Dark Web Procurer and Vlad Tepes.
Promos have no icon, the reprints do. So there are multiple versions of the cards in the promo packs or on print-on-demand (All cards in promo packs 1 and 2 were first released as promos with no icon, as was Nefertiti advanced or Anarch Convert, for example). The cards that have been promos multiple time, like Entrancement and Charisma had no icon the first time, and a specific GP icon (different for each) for the second promo round.
They were exclusive promos for some World of Darkness product: Bolesław Gutowski (Polish edition of VTM, released), Alicia Cortez (Mind's Eye Theatre, released), Gabriel Tremblay (Chapters, released) and Tegyrius (War of Ages, unreleased yet).
A modern layout version of Praxis Seizure: Venice has been sold over Drivethru Cards by mistake for a few hours, only a few copies have been sold and printed. This won't last though, since the card has been held as a future promo, and will at some point make it back on DriveThru.
V5 bundles have been release not only in English, but also in French, Spanish and Protuguese. Some bundles were also release in Latin. These might make for nice alternates in your decks, or constitute an additional challenge if you're a real completionist.
Where to buy